2021 Kathina program
18 July, 2021 @ 7:00 pm

-

9:00 pm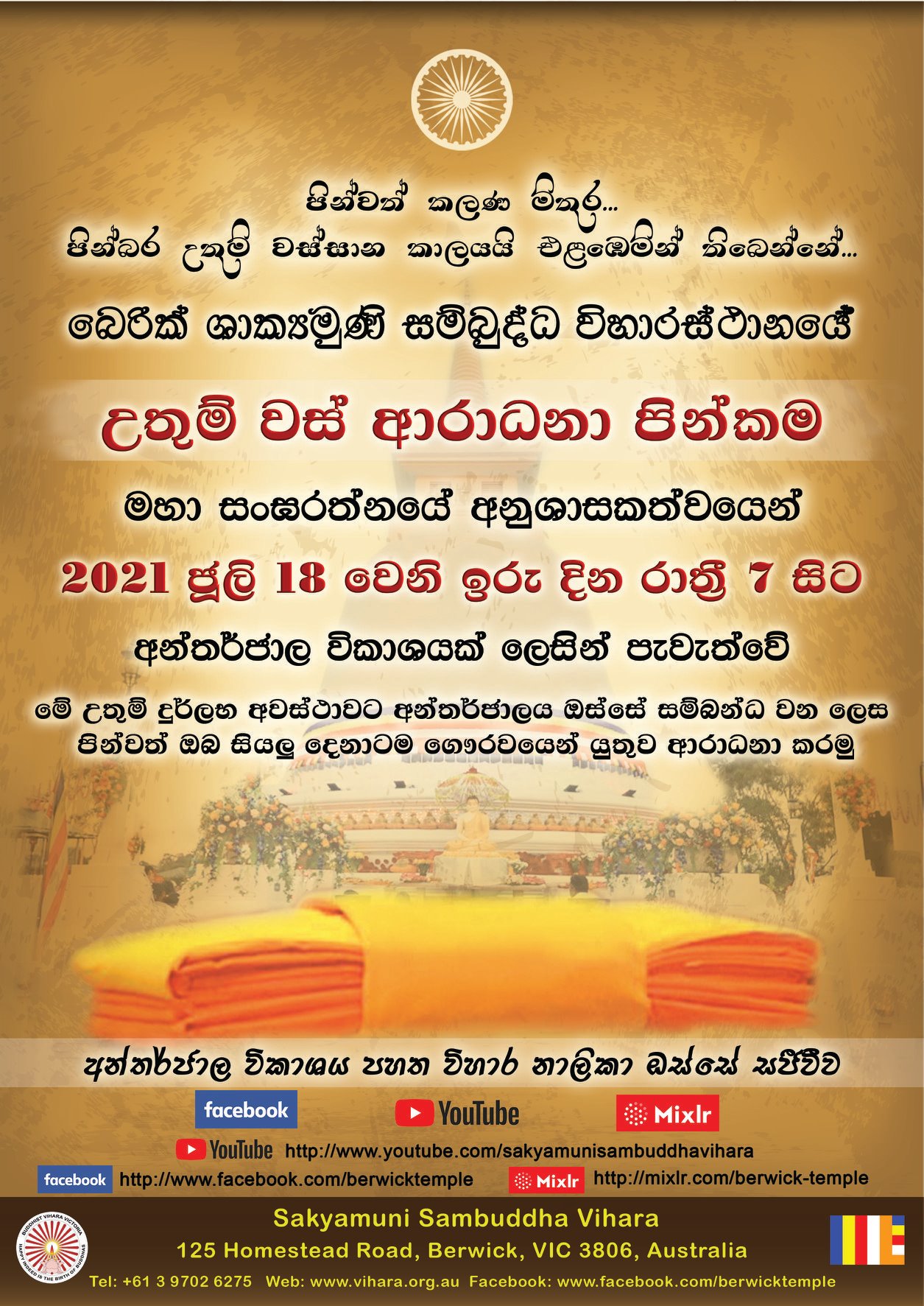 බෙරික් ශාක්
‍
යමුනි සම්බුද්ධ විහාරවාසී මහා සංඝ රත්නය වෙත වස් වාසය වෙනුවෙන් ගෞරව සම්ප්
‍
රයුක්තව ඇරයුම් කිරීම මේ ඉරිදා (ජුලි 18දා) සවස 7.00 සිට 2021 කඨින පින්කමට සම්බන්ධ පින්වතුන්ගේ සහභාගිත්වයෙන් ශාක්
‍
යමුනි සම්බුද්ධ විහාරයේදී සිදු කෙරෙන වගයි.
පවතින කොවිඩ් සීමා කිරීම් යටතේ ඔබට මේ වෙනුවෙන් විහාරස්ථානයට පැමිණීමට අවස්ථාව නොමැති වුවද, ඔබ සැමට ද අන්තර්ජාලය හරහා මේ සමඟ සජීවී ව සම්බන්ධ විය හැකිය.
අසිරිමත් වස්සාන කාලය වෙනුවෙන් අපි සැවොම පිලිවෙතින් පෙල ගැසෙමු.
තෙරුවන් සරණයි!
2021 Kathina program will be inaugurated with the 'Vas Invitation' event scheduled for 18th July from 7.00 PM.
We invite you all to join with the special Live streaming which will be simulcast via Vihara channels as usual.
May triple gem bless you!
Related Events