Special blessing pooja for VCE students
22 October, 2022 @ 7:00 pm

-

8:00 pm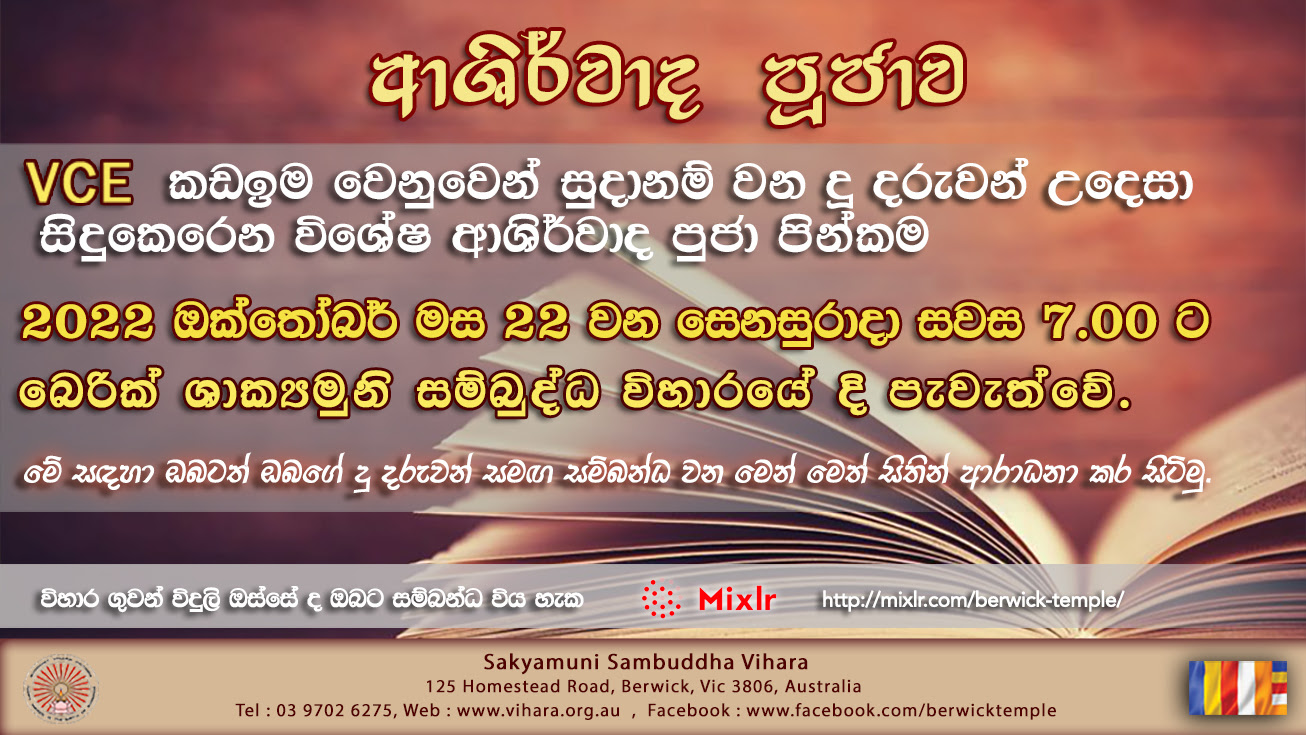 Dear Devotees,
A special blessing pooja for VCE students who will be sitting for the VCE exam next week will be conducted on Saturday 22nd October at 7.00 pm at the Sakyamuni Sambuddha Vihara. We invite you and your son/daughter to this special pooja this Saturday.
---
COVIDSafe guidelines at Sakyamuni Sambuddha Vihara
We as a community, highly value the health and wellbeing of our resident monks, visiting monks, and elderly, young, and immunocompromised people participating in events and/or special occasions. Therefore, it is our responsibility to refrain from spreading sicknesses during these unprecedented times. To make this happen as a responsible organisation, we kindly request you to respect and follow the Vihara COVIDSafe guidelines as listed below.
All participants must be fully vaccinated against COVID-19 or should have a valid and current exemption for entry to the event. If requested, you must provide the vaccine certificate or exemption at the entrance. Please make sure you have these as printed copies or on your mobile phone with or without linking to the Services Victoria QR code check-in application.
All participants must wear a face mask all the time during the event unless they have a valid medical exemption to present upon request.
Participants who are not in the same family need to maintain 1.5 meters distance from each other.

Please observe COVID regulations and refrain from participating if you have a sore throat, cold, cough, fever, or any other COVID symptom.

Please refer to the event details for the allowed number of in-person participants due to the event location space.
If you need any further clarifications, please contact 0400148461.
May the Noble Triple Gem bless you!