The Most Ven. Ampitiye Sri Rahula Nayaka Thero's Commemoration Ceremony
20 February, 2022 @ 8:00 am

-

5:00 pm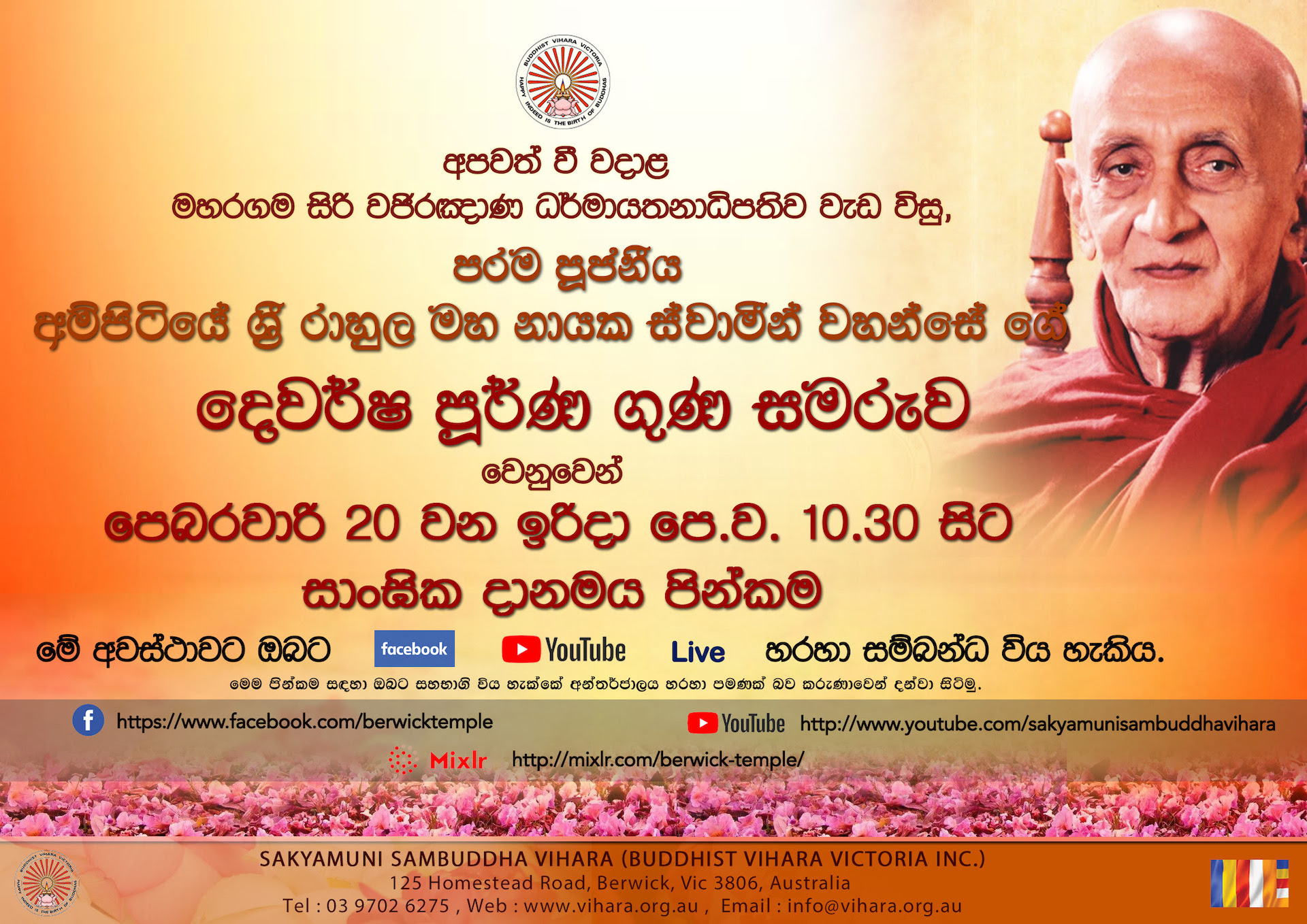 පින්වත් කළණ මිතුර, 
අති පූජ්‍ය අම්පිටියේ ශ්‍රී රාහුල  මහ නායක ස්වාමීන් වහන්සේගේ දෙවන ගුණානුස්මරණ පින්කම – පෙබරවාරි මස 20  වන ඉරිදා උදෑසන 10.30
අති පූජ්‍ය අම්පිටියේ ශ්‍රී රාහුල  මහ නායක ස්වාමීන් වහන්සේගේ දෙවන ගුණානුස්මරණය වෙනුවෙන් පවත්වන සංඝගත දක්ශිණාව පෙබරවාරි මස 20 උදෑසන 10.30 සිට විහාර නාළිකා ඔස්සේ විකාශය කරනු ලැබේ.  මෙම පින්කම සඳහා ඔබට විහාර නාළිකා හරහා සම්බන්ධ විය හැක.
දිනපතා බුද්ධ වන්දනාව 
දිනපතා බුද්ධ වන්දනාව සෑම දිනකම ප.ව 7.00 ට පැවැත්වෙන අතර ඒ සඳහා ඔබට Mixlr  ගුවන් විදුලිය හරහා සම්බන්ධ විය හැක. 
අන්තර්ජාල සජීවීනාලිකා / Live streaming channels
YouTube link : https://www.youtube.com/sakyamunisambuddhavihara
Mixlr link : http://mixlr.com/berwick-temple/
Facebook link : https://www.facebook.com/berwicktemple/
Please subscribe to the Vihara mailing list to receive events and program updates by providing your email in the form at the bottom of the home page.