Eighth Vas Dhamma Sermon 2022
3 September, 2022 @ 8:00 pm

-

9:00 pm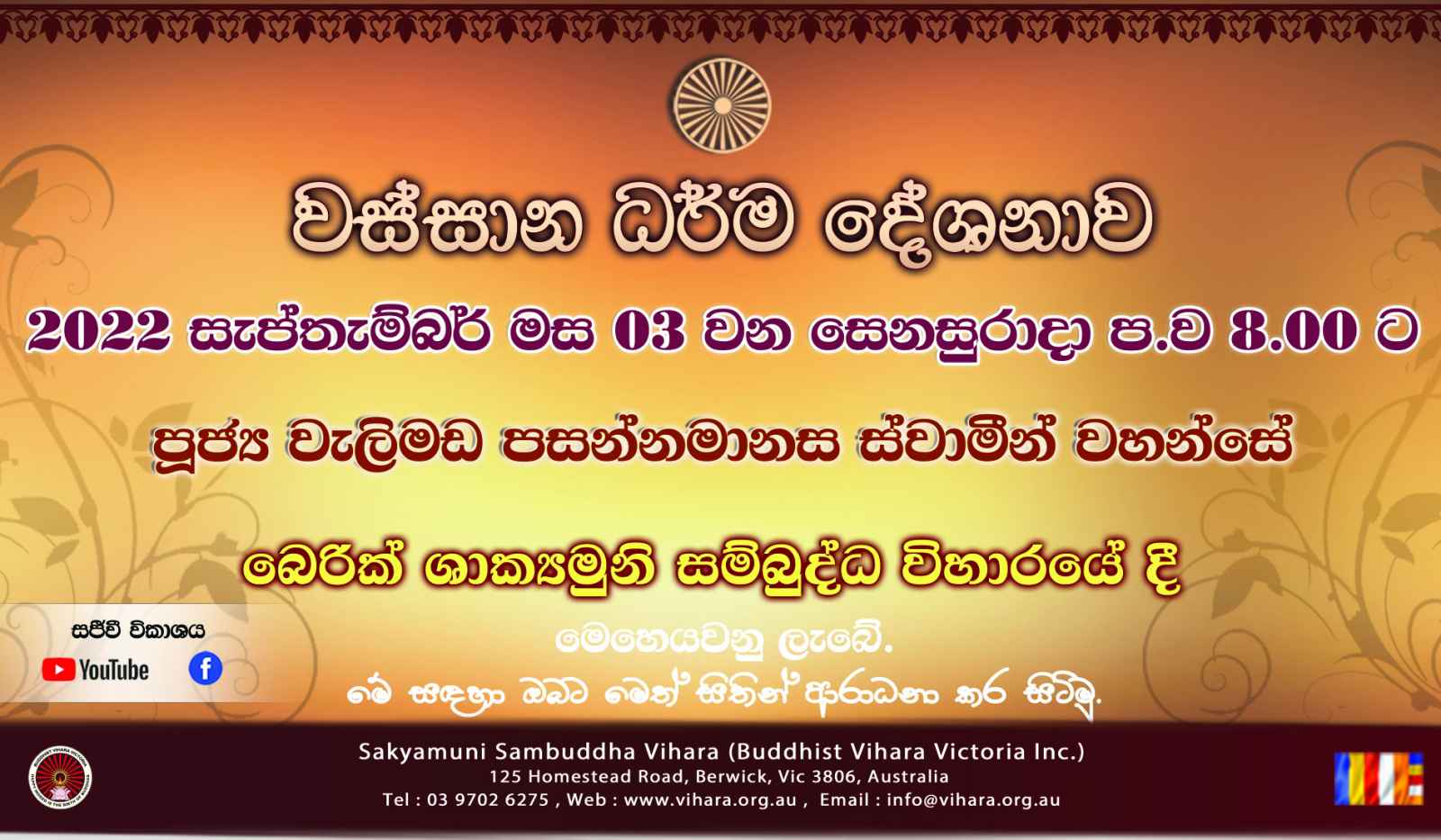 Dear Devotees,
The eighth Vas Dhamma Sermon during this Vas season will be conducted by Venerable Welimada Pasannamanasa Thero on coming Saturday, 3rd September 2022 from 8.00 PM. Please refer to the flyer below for more details. Due to the COVID-Safe guidelines for social distancing, only 100 participants can be accommodated inside the building. Others can participate as usual via the online channels listed below.
Please read the following important information related to the Vas Dhamma Sermon.
No registration is required.

Please see below for the Vihara COVIDSafe guidelines.
Now you also have the chance to contribute to the weekly Dhamma Sermons during this Vas season. Please click here to visit the Vihara web page for more details.
අන්තර්ජාල සජීවීනාලිකා / Live streaming channels
YouTube link: https://www.youtube.com/sakyamunisambuddhavihara
Facebook link: https://www.facebook.com/berwicktemple/
COVIDSafe guidelines at Sakyamuni Sambuddha Vihara
We as a community, highly value the health and wellbeing of our resident monks, visiting monks, and elderly, young, and immunocompromised people participating in events and/or special occasions. Therefore, it is our responsibility to refrain from spreading sicknesses during these unprecedented times. To make this happen as a responsible organisation, we kindly request you to respect and follow the Vihara COVIDSafe guidelines as listed below.
All participants must be fully vaccinated against COVID-19 or should have a valid and current exemption for entry to the event. If requested, you must provide the vaccine certificate or exemption at the entrance. Please make sure you have these as printed copies or on your mobile phone with or without linking to the Services Victoria QR code check-in application.
All participants must wear a face mask all the time during the event unless they have a valid medical exemption to present upon request.
Participants who are not in the same family need to maintain 1.5 meters distance from each other.

Please observe COVID regulations and refrain from participating if you have a sore throat, cold, cough, fever, or any other COVID symptom.

Please refer to the event details for the allowed number of in-person participants due to the event location space.
If you need any further clarifications, please contact 0400148461.
May the Noble Triple Gem bless you!